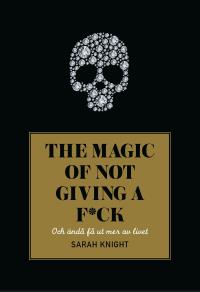 Isbn:
978-91-8879-955-5
Publisher:
Lava förlag
Category:
Psychology
Accessible since:
June 2018
---
E-book
|
28 days for loan
The magic of not giving a f*ck : och ändå få ut mer av livet
Är du sönderstressad, överbokad, och underväldigad av livet? Utled på att vara alla andra till lags men inte dig själv? Dåär det dags att sluta giving a f*ck.
Sarah Knights briljanta, roliga och praktiska handbok förklarar hur du ska skaka av dig ofrivilliga måsten, skam och skuld och i stället bry dig om de människor och aktiviteter som gör dig lycklig. I samma anda som Caitlin Moran, Corporate Bullshit av Lars Melin eller Corinne Maiers Hej lättja! levererar hon de sanningar du behöver för att lätta på kraven.
Hennes användarvänliga tvåstegsmetod för att sluta be om ursäkt - och för att rensa i den mentala röran kommer att frigöra dig från att måsten som:
FamiljedramanAtt ha en bikinikroppMedarbetares åsikter, husdjur och barnOch annan bullsh*t!
Boken kommer att ge dig tid, energi och pengar att lägga på de saker i livet som verkligen spelar roll. Vad väntar du på? Sluta give a f*ck och lev det bästa liv du kan få.
---